Shelterhouse Grill - 1008 sq in (P-1000/S* B*)

Specifications

Firebox Dimensions (DxWxH) 28"x36"x10"
Cooking Area (Sq. In.) 1008
No. of Grates 2
Vertical Grate Adjustment
from Bottom of Firebox 3-3/4" to 9"
Weight 215 lbs.
Optional Shelf (1) S4 (Included), (1 or 2) S1, (1) Additional S4
Base Options B7 (Standard), B15
Series Overview
Model P-1000/S offers 1008 sq. in. on twin 4-level adjustable cooking grates.
The P-1000/S also includes continuous 360-degree rotation on our theft-proof swivel attachments.
This charcoal grill stands on a 4-1/2" OD post (B7) and features a 10" sq. bolt down plate installation onto a concrete surface. Four 1/2" x 6" j-bolt anchors included for installation on new concrete footing. Optional: Use Model ANC1-4 Concrete Anchor Kit for installation on an exiting concrete surface.
Standard equipment includes (1) bolt on 12" x 36" steel utility shelf (S4). A second shelf is optional.
The P-1000/S charcoal grill includes all welded construction: 3/16" thick (7 ga.) steel grill firebox with die-formed reinforcing flanges, substantial gusseted bracing and ring reinforcement to help dissipate heat. Grates use 5/8" dia. steel perimeter and handle bars, and 1/2" dia. grate bars. All grate bars are welded on both sides. Entire grill is finished with high temp non-toxic black enamel paint.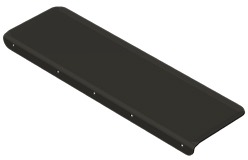 OPTIONAL: A second Model S4 bolt on utility shelf.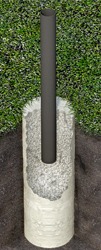 OPTIONAL: Portable caster base (B15), or embedded base post (B13). Optional bases replace the standard bolt down/surface base plate (B7).
Warranty:

5 Year Manufacturer's Warranty against defects in materials and workmanship.
1-year manufacturer's warranty against materials and workmanship of High Heat Paint.
Lead Time: 2-4 weeks before shipment. This item is "Built to Order"

WARNING: This product can expose you to chemicals including lead, which is known to the State of California to cause cancer or birth defects or other reproductive harm. For more information, visit www.P65Warnings.ca.gov.